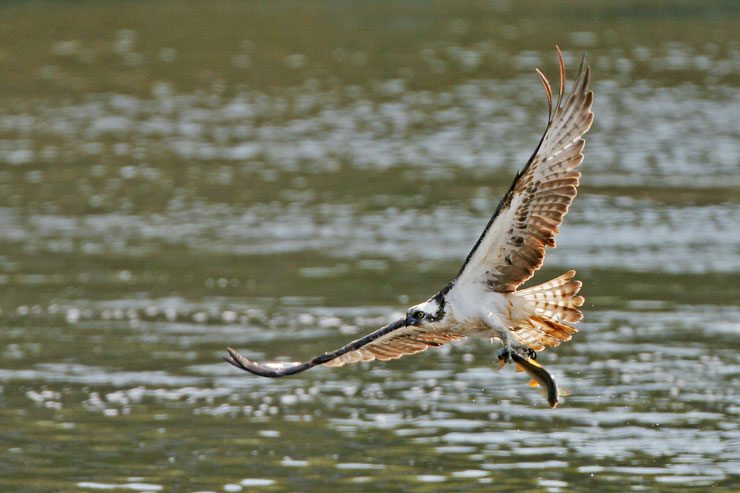 Lake District Ospreys
Distance:

5.4 miles from Low Briery

Address:

Dodd Wood, Keswick, Cumbria CA12 4QE
Bassenthwaite Lake is the only actual lake in the lake District, the others are meres or waters. It is a very special lake providing a home for a wide variety of wildlife and especially for the Ice Age vendace fish and the world famous Ospreys.
Between April and August the Ospreys put on their annual aerial display between Whinlatter and Bassenthwaite. They have an impressive five feet wingspan – if they're flying about you can't miss them. They first nested beside Bassenthwaite in 2001 – the first wild osprey to breed in the Lake District for 150 years.
Once the breeding pair lay their eggs, wardens keep a round the clock watch on the nest to prevent thieves stealing the eggs. Ospreys usually lay three eggs which take about six weeks to hatch. The young stay in the nest for six or seven weeks. In late summer the female will migrate south leaving the male to teach the youngsters the art of fishing. One year they kept the rangers on their toes by moving out of the tree top nest they have used for years to a brand new one down by their favourite river.
You can see them from the outdoor viewpoints at Dodd Wood where high powered telescopes and binoculars are provided. You may also be rewarded with images of red squirrels and woodland birds. There are two viewpoints in Dodd Wood, an upper and a lower. From the lower you may be lucky enough to catch a glimpse of the Osprey fishing in the Lake. The upper viewpoint is about a 30 minute walk up a forest track but the views will certainly make the effort worthwhile. Dodd Wood is located about 3 miles North of Keswick off the A591. Car Park facilities include toilets and a tearoom.
Over the course of most days during the breeding season the Ospreys can be seen fishing, sitting, feeding, flying and watching.